Best time to visit
Madrid
advice you can trust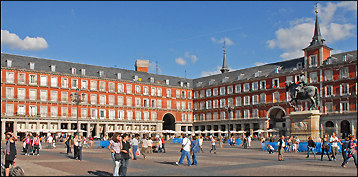 Madrid -
The best and worst
times to visit
Insights you need to know

Best times
May and June
This is the very best time. Temperatures are pleasant. And the summer tourist crowds have yet to arrive en masse (at least not until the last week or two of June).
September to October
Like the previous period, you'll enjoy mild temperatures and a moderate tourist count. Note: The first week of September is iffy in terms of tourist crowds and high temperatures. And it might be cold at the end of October.

Least desirable times
July and August
The heat can be oppressive, even at night. And a flood of tourists create long waiting lines at the Prado Museum and other famous attractions.
December to February
Days are typically very cold and nights, frigid. And your daylight sightseeing hours are very short.

Christmas and Easter
Unless you have a compelling reason for doing so, avoid coming during the Christmas and Easter holidays. They attract a surge of local and international tourists.

Know when to go
and not go to other
travel destinations
Click More best and least desirable times
Learn my other
Spain tips & insights
Wonders of Spain - Top 10 rankings
Spain wonder map
Basic Spanish phrases
Spanish cuisine

Madrid photo by Dalbera - CC BY 2.0

World's Top 100 Wonders
World's Top 1000 Wonders
Site map
My credentials
About my website and criteria
Reader testimonials