Burj Al Arab
Travel tips you can trust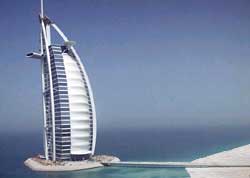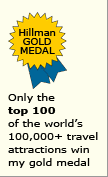 Why the
Burj Al Arab
hotel is special
The Burj Al Arab is a futuristic architectural marvel towering over the gulf.
Burj Al Arab
tips & insights

Stunning design
The Burj Al Arab is shaped like a billowing spinnaker sail (see photo).

On a man-made island
The Burj Al Arab (means "The Arabian Tower" in Arabic) is built on a tiny man-made sea island, a mere football kick from the Dubai mainland. A short causeway (see photo) links the hotel to the Dubai mainland.
The structure is firmly rooted. The foundation pillars reach 40 meters (120 feet) underneath the seabed

Bigger than it seems
The hotel is significantly taller than it appears to the eye. It rises 332 meters (1053 feet), making it one of the world's highest buildings.
To grasp the Burj Al Arab's height, imagine New York's 102-floor Empire State Building standing next to the the Burj Al Arab, which is just 16% shorter.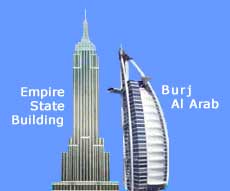 The Burj Al Arab's streamlined shape and its double floor design help create the optical illusion that it's smaller than it really is.

Burj Al Arab's atrium
The Burj Al Arab's atrium is the world's tallest, measuring 180 meters (600 feet) high. The interior cavity rises from the lobby level to the hotel's upper floors.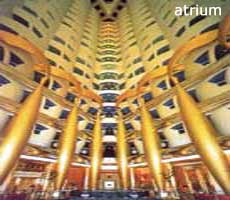 Burj Al Arab's changing facade
The Teflon-coated hotel is brilliant white during a sunny day, but takes on an entirely different look at night. Computer programmed spotlights create a changing tableau of colors on the white facade.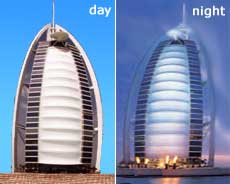 Burj Al Arab's Suites
The building is an all-suite hotel. There are 202 double-floor suites. Each is sumptuously decorated and equipped with high-tech devices. The Burj Al Arab suite windows stretch floor to ceiling, offering grand sea and land views. Each suite has its own private butler.

Rates
Double occupancy rates start at about $1,000 per night for one bedroom suites. The two sprawling Royal Suites go for more than $5,000 a night.

Underwater restaurant
Diners in the Al Manhara seafood restaurant view teeming Gulf ocean life in a hangar-sized aquarium tank through a long curving wall of sizable picture windows. You can take a short simulated submarine ride from the Burj Al Arab hotel lobby to reach the restaurant.

Burj Al Arab helipad
A helipad dramatically juts out from one of the upper Burj Al Arab's floors. Helicopters ferry guests to and from Dubai's modern international airport. "Budget-minded" guests take the hotel's Silver Cloud Rolls Royce limousines.

Viewing tips
You get an up close, ground-to-top view of the Burj Al Arab from outside its main gate. Non-hotel guests can see the interior by booking a tour or dining table.

Location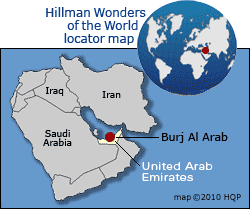 Know these Dubai tips and insights
Dubai pages
Top10 things to do in Dubai
Ten reasons to visit Dubai
Burj Khalifa
Burj Khalifa - interesting facts
Burj Al Arab
Best hotels & resorts
Interesting Dubai tidbits
Cruise guide
Persian Gulf cruise
Dubai Tourism official website

World's Top 100 Wonders
World's Top 1000 Wonders
Site map
My credentials
About my website and criteria
Reader testimonials