Carnival in Rio
Travel tips you can trust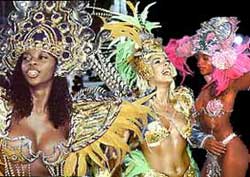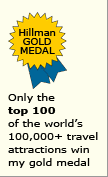 Why
Carnival in Rio
is special
Carnival in Rio has been called the world's most famous party. A million tourists join millions of Rio de Janeiro citizens ("cariocas") in enthusiastic revelry spanning several days.
Carnival of Rio
highlights

Top three
The Sambodromo parade (described below) is number one. Close runners-up are the street processions and masquerade balls.
Carnival in Rio
schedule

Last and next dates
The last Carnival in Rio:
2014 Friday Feb 28

Tuesday Mar 4
The next Carnivals in Rio:
2015 Friday Feb 13

Tuesday Feb 17
2016 Friday Feb 5

Tuesday Feb 9
2017 Friday Feb 24

Tuesday Feb 28
2018 Friday Feb 9

Tuesday Feb 13
2019 Friday Mar 1

Tuesday Mar 5
2020 Friday Feb 21

Tuesday Feb 25
Carnival in Rio takes place during the days preceding Ash Wednesday, the first of 40 meatless fasting days preceding Easter (Carnival derives from "carne vale" meaning "farewell to meat").
Although the official Carnival in Rio starting day is Saturday, the partying begins in earnest the night before and continues through Tuesday (Mardi Gras means " Fat Tuesday").
Sambodromo
parade

Setting
The Sambodromo is a 700-meter (half-mile) long parade strip flanked by spectator stands and luxury boxes.
The sounds and sights of the parading samba schools that go on from dusk to day break.

Tickets
On the Sunday and Monday nights before Lent, the seats are filled with over 60,000 eager on-lookers. Tickets cost up to hundreds of dollars each and sell out quickly.
Location in Brazil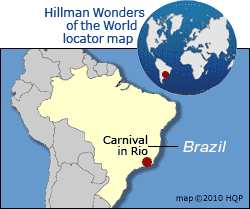 Learn More

for next Carnival in Rio page
Know my other
Brazil tips and insights
Amazon Rainforest
Brasilia
Carnival in Rio
Christ the Redeemer Statue
Copacabana Beach
Fernando de Noronha
Iguacu Falls
Ipanema Beach
Niteroi Contemporary Museum Art
Panoramic Views
Salvador de Bahia
Sugar Loaf Mountain
Teatro Amazonas
Brazil Wonders - Top 10 Rankings
Brazilian cuisine

World's Top 100 Wonders
World's Top 1000 Wonders
Site map
My credentials
About my website and criteria
Reader testimonials