The Wonders of
Costa Rica
Travel tips you can trust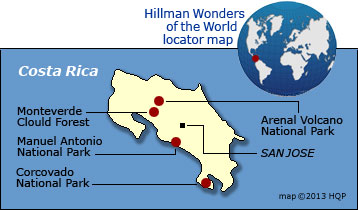 Learn about
Costa Rica's
top 4 attractions
The four attractions below (listed alphabetically) win my Hillman Wonders
of the World medal.
Click the blue links below to view my tips-and-insights page and photo on each of these four medal winners.

Arenal Volcano National Park
You see a mighty volcano erupting relatively close to you.

Corcovado National Park
You explore one of the world's most diversified fauna and flora preserves.

Manuel Antonio National Park
You sunbathe on beautiful tropical beaches and take interesting trail hikes into a lush, wildlife-rich rainforest.

Monteverde Cloud Forest
You experience a cloud forest firsthand as you walk up on an easy-to-hike trial.
Interesting
Costa Rica
conversation pieces
for travelers

First European visitor
It was Columbus in 1502 during his fourth and final voyage.

Volcanos galore
There are seven active volcanoes and over 100 dormant ones.

Leading exports
Bananas and coffee top the list.

Leading import
Tourists are number one. Retirees from Canada and America are also major sources of foreign money.

Affectionate nicknames
Costa Ricans call males "Ticos" and females, "Ticas".

Worldwide praise
The country is heralded by environmentalists around the world for its staunch dedication to preserving its biodiversified flora and fauna.

No army
Costa Rica has not had an army since 1948 when President Ferrer abolished the army to prevent the possibility of future military coups (which have been common in Central America).
Read my Costa Rica pages
Arenal Volcano National Park
Corcovado National Park
Manuel Antonio National Park
Monteverde Cloud Forest
Wonders of Costa Rica - Home Page

World's Top 100 Wonders
World's Top 1000 Wonders
Site map
My credentials
About my website and criteria
Reader testimonials