Machu Picchu
insights you can trust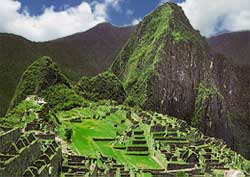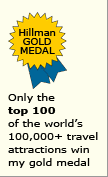 Why
Machu Picchu
is special
Most seasoned travelers agree that Machu Picchu in Peru is the world's most dramatic ruins. It sits boldly perched on a steep sided mountain saddle far above the partially encircling Urubamba River gorge.
What remains of the precision stonework of the pre-Colombian Inca temples and palaces clearly reveals how exalted Machu Picchu was in its glory days.
Birthplace of
Hillman Wonders

My Wonders of the World list officially began in earnest during my 1968 trip to Machu Picchu. Click the link below for details:
How Hillman Wonders began in 1968
Best and worst times
to visit Machu Picchu -
The two tourism seasons

May to September
This is the best period. May is the prettiest month (the dense, subtropical mountain forests are exceptionally green) while August is the best all around month.

October to April
The is the rainy season and therefore the least desirable period.
Lost City
of the Incas

Mysteriously abandoned
Just before the Spanish conquest, Machu Picchu was mysteriously abandoned - and this was when it was still in its golden age.

Unknown to the Spaniards
The conquering Spanish were unaware of Machu Picchu. Its existence was known only by local insiders.

Discovery
Machu Picchu lay buried under dense mountainous vegetation until 1911 when Yale University explorer Hiram Bingham discovered it and began the reclamation process.
Learn More

for Machu Picchu - Page 2
Learn my other
Peru tips & insights
Amazon Rainforest
Chan Chan
Chavin de Huantar
Cuzco
Lake Titicaca
Machu Picchu
Nazca Lines
Wonders of Peru - Top 5 rankings
Click Peru for country's tourism website.

World's Top 100 Wonders
World's Top 1000 Wonders
Site map
My credentials
About my website and criteria
Reader testimonials