Paul Gauguin
romantic cruise
Cruise tips you can trust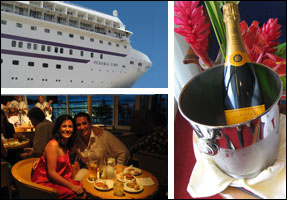 Top 5 things lovers*
like best about the
romantic cruise ship
Paul Gauguin
*Honeymooners,
anniversary celebrants,
and other amorous couples
My list reflects my onboard interviews with fellow passengers. I selected the Paul Gauguin to illustrate what it's like aboard a romantic cruise ship because many consider it to be the world's finest for romantic cruising.

You sail the
Polynesian islands

World's most romantic
To most seasoned travelers, the French Polynesian islands are the most romantic on earth. They are the tropical paradise in our dreams - and make the perfect romantic cruise destination.

Natural beauty is staggering
Lushly draped rugged peaks descend into turquoise tropical lagoons rimmed by coral reefs.

Polynesians
The islanders are warm, gentle and hospitable - and their dancers are sensuous.

You're away from the crowd

High space-to-passenger ratio
Why be in a crowded or cramped environment during a honeymoon or anniversary getaway? The Paul Gauguin doesn't feel that way because it accommodates only 330 passengers (similar-sized ships typically carry 500 or more).

Private balconies
Most Paul Gauguin cabins have private balconies. These verandas are ideal for intimate chats, cocktails, and moonlight dinners-for-two.

Well-spaced tables for two
Your table won't be "kissing" the next table.
Learn More

to see #3, #4, and #5
Learn my other
Paul Gauguin cruise tips & insights
Why the Paul Gauguin is special
Not right for you?
Top 5 experiences - Onboard
Top 5 experiences - Shore
Special tips for lovers
Pre- and post-cruise resorts
Dinner menu selections
Itinerary maps
Deck plans
More tips & insights
Click Paul Gauguin for its website.

World's Top 100 Wonders
World's Top 1000 Wonders
Site map
My credentials
About my website and criteria
Reader testimonials