Prague Old Town
Travel tips you can trust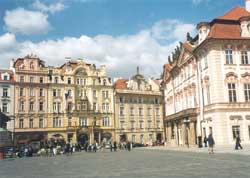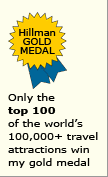 Why
Prague Old Town
is special
It is one of the world's most architecturally beautiful urban sites.
Prague Old Town's
must-see attractions

Main Square
It is the heart of Old Town, which is the heart of Prague, the capital of the Czech Republic. The square is lined with period piece Gothic, Renaissance and Baroque buildings (see photo).

Astronomical Clock
The famous outdoor Astronomical Clock displays, besides the time, the astrological positions of the moon and sun. It dates back to the 15th century. On the hour, the two small window doors above the clock's zodiac face open to exhibit the parading statues of the Twelve Apostles. Tourists unfailingly assemble below, patiently waiting for the hourly show to begin.

Beyond the square,
but still in Prague Old Town
Narrow, winding side streets branch out from the square in a pattern laid out in medieval times. Most are lined with old, short-storied buildings that take you back in time. Some buildings have restaurants and shops.
One area is named the Old Jewish Quarter. The foremost attraction of this former ghetto is the cemetery. Its tightly packed old tombstones lean in all directions.

Slightly beyond Old Town
Prague is much more than its Old Town. The following two attractions are Hillman Bronze Medal winners:

Charles Bridge
It abuts Prague Old Town. Click to view its web page: Charles Bridge

Prague Castle
In a word, it's grand. Click to view its web page: Prague Castle
Czech Wonder
location map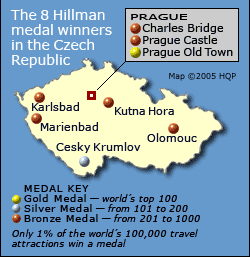 Learn More

for next Prague Old Town page
Know these
Czech tips and insights
Czeck Wonders
Cesky Krumlov
Charles Bridge
Karlsbad
Kutna Hora
Marienbad
Olomouc
Prague Castle
Prague Old Town
Other Czech pages
Top 10 Czech Wonder rankings
Basic Czech phrases
Czech cuisine
Czech honorable mentions
Famous festivals
Czech Republic fact sheet
Photo gallery


World's Top 100 Wonders
World's Top 1000 Wonders
Site map
My credentials
About my website and criteria
Reader testimonials