Top 10 reasons why
the Regent Voyager
is special
reasons #1 to #5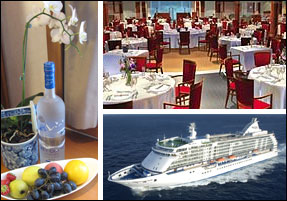 What I liked best
about the Voyager
luxury cruise ship
My top 10 list is on the Regent Seven Seas Voyager. I selected it to illustrate what it's like to be aboard a luxury cruise ship because of its reputation among seasoned travelers.

All-suite, all-balcony
All the cabins on the Regent Seven Seas Voyager are suites. Each has a separate seating area plus a balcony with an unobstructed view.

Spaciousness
The Regent Seven Seas Voyager is a mid-sized cruise ship yet carries a maximum of only 700 passengers (similar-sized liners usually carry twice that number). It never feels full, even when everyone is aboard.

Personalized service
The service staff on this luxury cruise ship is professional, gracious and attentive. You are treated as an individual, not a number. Overall, there are 447 crew members for 700 passengers.

Stylish ambiance & lifestyle
The Regent Seven Seas Voyager ambiance is luxurious, tasteful and refined. The travel lifestyle is relaxed and unpretentious.

Quality dining
The food quality and presentation aboard the Regent Seven Seas Voyager are among the best on the high seas. And you can dine in four different restaurants.
Learn More

for reasons #6 to #10
Learn my other
Regent Voyager tips & insights
Top 10 reasons to go
Entertainment
Dining
Other food venues
Service
Tours and enrichment programs
Suites
Spa and fitness
Other public spaces
More tips and insights
Click Regent Seven Seas Cruises
to vist the cruise line's website.

World's Top 100 Wonders
World's Top 1000 Wonders
Site map
My credentials
About my website and criteria
Reader testimonials