Guggenheim Museum
n Bilbao
Travel tips you can trust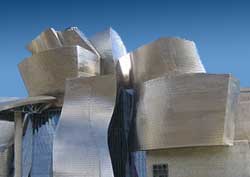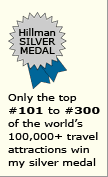 Why the
Guggenheim Museum
in Bilbao is special
The Guggenheim Museum Bilbao has a modern, contoured-surface design that amazes the eye.
Guggenheim Museum Bilbao
tips and insights

Celebrated design
The abstract design of the Guggenheim Museum Bilbao is more than simply architecture. It is an art object itself. The curvaceous forms jutting from the Guggenheim Museum Bilbao are sheathed in ultra-thin Titanium metal. This gives the surfaces lightness, longevity and a vibrant silvery tone. Many liken the overall exterior appearance to a fish with scales. Others visualize a blooming flower.

Critique
Some experts call it the masterpiece of celebrated architect Frank Gehry. One critic faulted the building's appearance because it "outshines the artworks inside".

Boom to tourism
The Guggenheim Museum Bilbao opened in 1997 and immediately became a landmark known around the globe. This significantly increased the number of tourists visiting the city.

Its older sister
The Guggenheim Museum in New York was designed by modernist architect Frank Lloyd Wright a half century ago. It also became an instant landmark.

Location in Spain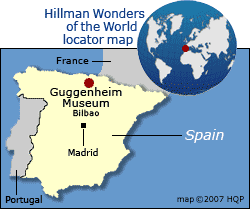 Know these
Spain tips and insights
Wonders of Spain - Top 10 rankings
Spain wonder map
Basic Spanish phrases
Spanish cuisine


World's Top 100 Wonders
World's Top 1000 Wonders
Site map
My credentials
About my website and criteria
Reader testimonials