Prado Museum
Travel tips you can trust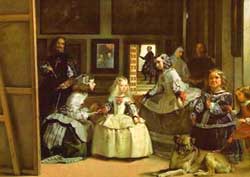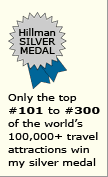 Why the
Prado Museum
is special
The Prado Museum in Madrid houses one of the world's finest collections of European classical paintings.
Prado Museum
tips and insights

Artworks
The Prado Museum has a full range of artworks, including sculptures. However, its crowning splendor is its 12th to early 19th century European paintings.

Collections
Its Italian and Flemish collections are outstanding, but the Spanish assemblage shines brightest. This is particularly true in the works of Velasquez, Goya and El Greco.

Maids of Honor
This is Velasquez's and the museum's most famous painting (see photo). The young Princess Margarita is the centerpiece. She is looking at her parents, the king and queen, who are modeling for the artist Velasquez (you can see him working behind the large easel). You cannot see the royal couple directly because they are positioned where you the viewer are. Their image is reflected in the framed mirror on the far wall, directly to the right of Velasquez.

El Greco
His masterpieces in the Prado Museum include The Adoration of the Magi.

Goya
He is the strongest visitor magnet. His emotional Third of May painting is immensely admired.

Location in Spain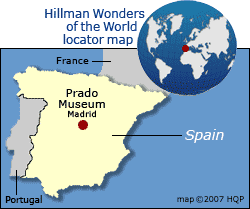 Learn More

for Prado Museum - Page 2
Know these
Spain tips and insights
Wonders of Spain - Top 10 rankings
Spain wonder map
Basic Spanish phrases
Spanish cuisine


World's Top 100 Wonders
World's Top 1000 Wonders
Site map
My credentials
About my website and criteria
Reader testimonials