Ronda
Travel tips you can trust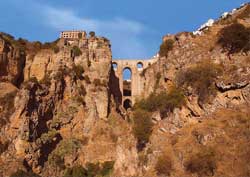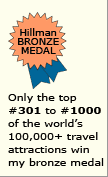 Why
Ronda
is special
Ronda is a small, charming white-washed town in a mountainous region of Andalucia. It is dramatically split in two by a deep gorge spanned by high bridges.
Ronda
tips and insights

The New Bridge (see photo)
It is as high as a modern 29-story building. The New Bridge links the new section of town with the old one. It's new in name only. The bridge was built in 1793.

Ronda's old section
It has crooked, narrow streets and some historic buildings. This is where you want to spend most of your time.

Bull fighting
Some historians believe that Ronda is the birthplace of modern bullfighting, when matadors began fighting bulls standing instead of sitting on horses. This occurred in the 1700s. The 18th century bullring is a must-see. Although bullfights are seldom held in it nowadays, the spectator area is an architectural treasure of the past.

Length of stay
Ronda is popular (sometimes too popular) as a daytrip for vacationers staying in the Mediterranean resort areas along the Costa del Sol. To enjoy Ronda in its relaxed state, stay overnight and explore it in the hours before and after daytrippers overwhelm the town.

Location in Spain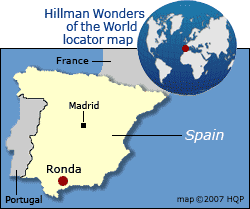 Know these
Spain tips and insights
Wonders of Spain - Top 10 rankings
Spain wonder map
Basic Spanish phrases
Spanish cuisine


World's Top 100 Wonders
World's Top 1000 Wonders
Site map
My credentials
About my website and criteria
Reader testimonials