Seville Alcazar
Travel tips you can trust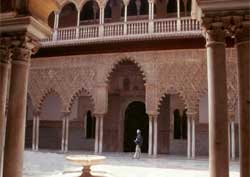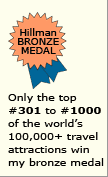 Why the
Seville Alcazar
is special
The Alcazar is a stunning complex of palatial rooms and courtyards in the classic Mudejar architectural style.
Seville Alcazar
tips and insights

Architectural style
The Seville Alcazar was built by King Pedro in the 1300s on the ruins of a Moorish castle-palace dating back to the 900s. Its style is overwhelmingly Mudejar. The term Mudejar defines the acclaimed Moorish artistic style used by post-Reconquesta Muslim architects for structures commissioned by Christian royalty and affluents. The Seville Alcazar is an example of that exhilarating style.

Highlights
The Seville Alcazar has many interesting rooms and courts to explore. The top two:

Hall of the Ambassadors
Its luxuriantly tiled walls and magnificent cedar cupola are masterpieces.

Court of the Maidens
This multi-arched court is stunning. See photo.
During your visit, take a break and enjoy the peaceful, jasmine-scented gardens.

Royal residence
The Seville Alcazar is the oldest royal palace in use as a residence by monarchs. The current king and queen make it their home on their visits to Seville.

Also in Seville
Nearby is another Hillman Wonders bronze meal winner: The Seville Cathedral and its Giralda Tower.

Location in Spain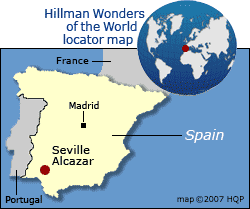 Know these
Spain tips and insights
Wonders of Spain - Top 10 rankings
Spain wonder map
Basic Spanish phrases
Spanish cuisine


World's Top 100 Wonders
World's Top 1000 Wonders
Site map
My credentials
About my website and criteria
Reader testimonials