Toledo Old Town
Travel tips you can trust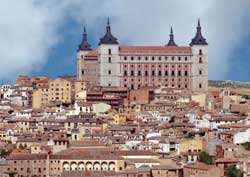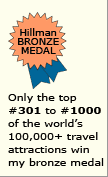 Why
Toledo Old Town
is special
The old quarter of Toledo offers visitors an imposing Alcazar fortress (see photo), a grand 13th century Gothic cathedral, and a medieval maze of narrow, twisting, cobblestone streets.
Toledo Old Town
tips and insights

Setting
The Toledo Alcazar sits on a high hill providing a sweeping view of the town and countryside.

Top attraction
The Toledo Cathedral with its soaring bell tower is the town's pride and joy. The highlight is El Transparente, an arresting medley of sculpture, painting and marble work. It covers the tall wall behind the main altar. The Toledo Cathedral also houses an enviable collection of art by Goya, El Greco, and other master

Best vantage of Toledo
Go to the other side of the river. It gives you a perspective view of the town.

How to pronounce
Toledo: toh-LAY-doh

Location in Spain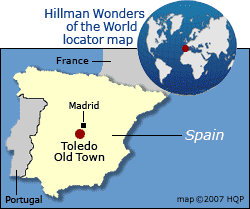 Learn More

for next Toledo Old Town page
Know these
Spain tips and insights
Wonders of Spain - Top 10 rankings
Spain wonder map
Basic Spanish phrases
Spanish cuisine


World's Top 100 Wonders
World's Top 1000 Wonders
Site map
My credentials
About my website and criteria
Reader testimonials