Taj Mahal
Travel tips you can trust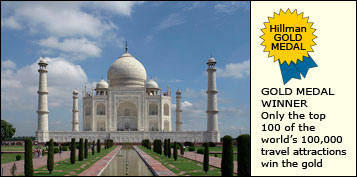 Why the
Taj Mahal in Agra
is special
Most travelers call this wonder in India the world's most beautiful building - ever. Some say it's worth a trip half way around the world just to see it.
Labor of love
The grieving Mogul emperor Shah Jahan erected it in the 1600s as the final resting place for his beloved queen. He wanted to perpetuate her memory. It took 22 years and 22,000 people to complete the Taj Mahal.
When to visit and
not visit the Taj Mahal

Popular months
January and February are the two coolest temperature months and therefore are the most popular. However, tourist crowds are thick. And, in January, your photographs may suffer a bit because the sky can be hazy.

Good compromise
March to mid-April and October to November December are ideal times if you want comfortable weather without experiencing thick tourist crowds.

Least desirable times
Heavy monsoon rains fall in July to mid September - and temperatures can be scorching from mid-April to June.
Best time of
day for viewing
The Taj Mahal is particularly sublime at sunrise and, to a somewhat lesser degree, at sunset.
The problem with midday viewing is a lack of sufficient shadows. They accentuate the building's graceful curves.
Full moon -
the good & the bad
The experience of seeing the Taj Mahal during a full moon (or on the night or two before or after that lunar event) is mesmerizingly mystical.
But be aware that this full-moon happening draws droves of tourists, which partially diminishes the ethereal experience.
Corrosion damage
Air pollution from factories, cars and other sources has been slowly but surely corroding the wonder. However, the government of India is now making an effort to alleviate this serious problem.
Learn more
tips & insights

for Taj Mahal page 2
Location in India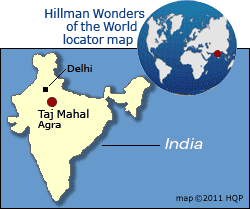 The Taj Mahal is on
the famous Golden Triangle tour route


to learn about it.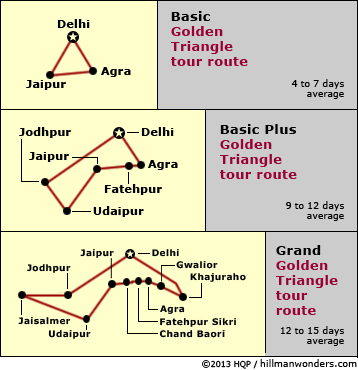 Wonders of India - Top 10 rankings
Basic Hindi phrases for travelers
Indian cuisine
Flying to India
World's Top 100 Wonders
World's Top 1000 Wonders
Site map
My credentials
About my website and criteria
Reader testimonials

World's Top 100 Wonders
World's Top 1000 Wonders
Site map
My credentials
About my website and criteria
Reader testimonials