Azamara Quest
ship staff
Cruise tips you can trust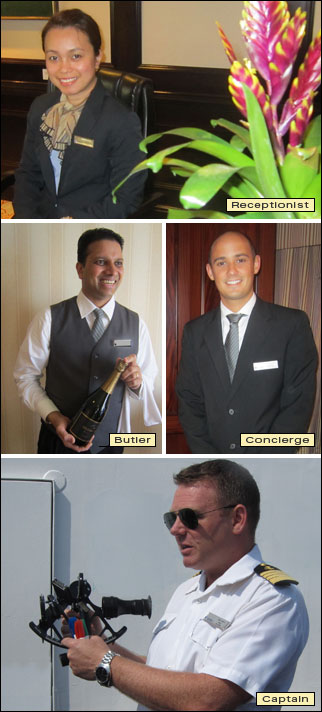 Service staffers
They went out of their way to please and accommodate guests. This included a receptionist (top photo) and the butler Raphael (left-mid photo). They had a happy to be here and serve you attitude.

Senior officers
They made a point to intermingle with guests to make sure they were enjoying their cruise. This included Hotel Manager Ryszard and Concierge Guy (mid-left photo).
Captain Carl easily won over the guests with his humor and his sincere desire to share his maritime knowledge with them. For example, he gave an interesting demonstration on how to use the old-fashioned sextant (bottom photo).
He even altered the ship's course so guests could witness an active volcano erupting at night. Many guests were on deck at 11 pm to see brilliant hued hot lava skyrocketing upwards and racing down the volcano's slope to the sea.
Learn my other
Azamara Quest tips & insights
Why ship is special
Dining
Lounges and bars
Pool, spa, and fitness
More activities
Staff
Cabin photo gallery
Cabin facts
Deck plans
More tips and insights
Ship fact sheet
Click Azamara Club Cruises
for the cruise line's website.

World's Top 100 Wonders
World's Top 1000 Wonders
Site map
My credentials
About my website and criteria
Reader testimonials