Family cruise mistakes
#8 to 10

PAGE ONE for mistakes #





PAGE TWO for mistakes #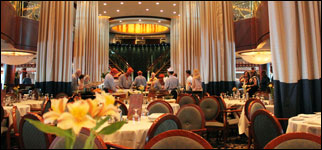 Being uninformed about
food & beverage issues
Some cruise lines unilaterally assign you for the duration of the cruise to a set dinner period (early or late) and at a specific table. If you don't like the arrangement, talk to the restaurant maitre d' soon after you board. Chances are the staffer will be able to change the assignment to your satisfaction.
Make reservations to the popular alternative restaurants as soon as you embark. Seats are limited and reservations go fast.
Adults enjoy 90-minute sit down dinners, but few children do. Be sure the ship has casual restaurants where your children can eat with you or their friends.

Insufficiently scrutinizing
a cruise ship's children
program and facilities
Factors include how narrowly or broadly a ship defines its age-specific groups. For instance, your 16-year-old will be more eager to participate if there are both 13-to-15 and a 16-to-17-year-old groups as opposed to a generic 13-to-17 group.

Booking a single stateroom
for a family of four
Space will be cramped and privacy lost because the vast majority of standard staterooms average about 200 square feet. Think of four people staying in a 10-by-20-foot hotel room. Unless you are on a dire budget, the added cost of booking two connecting cabins (one for mom and dad, the other for the kids) is worth it.
Click blue links for
more family cruise mistakes
PAGE ONE for mistakes #




PAGE TWO for mistakes #




Other helpful family cruise pages
Best family cruise lines - by category
Children activity checklists
More tips & insights
Cruise Lines International Association

World's Top 100 Wonders
World's Top 1000 Wonders
Site map
My credentials
About my website and criteria
Reader testimonials