More family cruise
tips & insights
helpful advice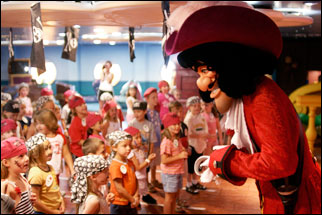 Popularity
You won't be alone. More than a million passengers per year take family cruises.

Popular destinations
The top two for families are the Caribbean and Mediterranean, followed by Mexico and Alaska.

Cruise length
The average is seven days, though some cruises are as short as 2 days and as long as 10 or more days.

Travel agents
A good, well-connected travel agent can often get you a lower price and/or a better cabin than you probably could do on your own. They also offer you sound advice based on years of experience.

Air travel
If you choose a departure port within driving distance of your home, you can eliminate the expense and hassle of family air travel.

Know the real total cost
While most advertised cruise fares include your cabin, food, and entertainment, they don't include tips, alcohol, alternative onboard restaurants, laundry, transportation, shore excursions, among other extras. They collectively represent a tidy sum.

Multi-generational cruises
I've known people who selected their cruises based solely on their children's desires. Those of the parents and grandparents should count, too.

Do you know the avoidable
family cruise blunders?
Top 10 mistakes to avoid - #1 to 4
Top 10 mistakes to avoid - #5 to 7
Top 10 mistakes to avoid - #8 to 10
Other helpful family cruise pages
Best family cruise lines - by category
Children activity checklists
More tips & insights
Pirate photo courtesty of Disney Cruise Lines
Cruise Lines International Association

World's Top 100 Wonders
World's Top 1000 Wonders
Site map
My credentials
About my website and criteria
Reader testimonials