Top 10
family cruise mistakes
#1 to 4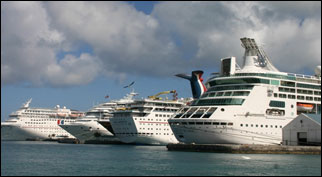 Avoid these
family cruise mistakes

Selecting an old
or mid-aged ship
The newer the ship, the more family-friendly facilities it will likely have. And the facilities will have been custom built (rather than modified) for children use. Moreover, cabins and public areas will likely be more spacious.

Not monitoring your
child's onboard spending
Some parents at the end of the cruise are hit with unexpected charges totaling hundreds of dollars in internet, phone, video games, among other expenses. It's wise to set a child's daily budget and monitor the charges at the purser's desk.

Not setting rules
and enforcing them
Before you book, be sure your children understand and accept your and the ship's rules. They include keeping you abreast of their whereabouts - and maintaining good behavior. Running or shouting in public spaces disrupts the vacation experience of other passengers. There have been instances of families being kicked off ships (without refunds) because of badly behaved children. Unfortunately, some people relax their parenting responsibilities when they board the ship.

Being blind to
the teenager issue
Teenagers are twice as likely to become bored and disgruntled on a cruise ship than tweens and tykes. This negativity could dampen your vacation. The best defense is to involve your teenager in the cruise selection process. And, once aboard, encourage him or her to attend the first teen socializing event where they can meet and make new friends. Wait and the other teenagers have already formed their friendship groups.
Click blue links to learn
more family cruise mistakes
PAGE TWO for mistakes #



PAGE THREE for mistakes #




Other helpful family cruise pages
Best family cruise lines - by category
Children activity checklists
More tips & insights
Cruise Lines International Association

World's Top 100 Wonders
World's Top 1000 Wonders
Site map
My credentials
About my website and criteria
Reader testimonials