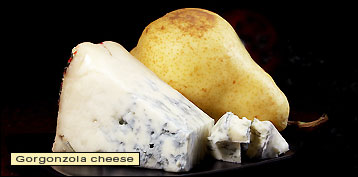 More
Lombardy and Milan
tips and insights

Culinary preferences
Three defining characteristics:

Butter
Generous use of butter is a hallmark of Milanese/Lombard cooking.

Rice and Polenta
Diners have a strong preference for rice or polenta over pasta.

Meat vs seafood
Being landlocked, Lombardy has few notable seafood specialties (one being the aquatic version of Frito Misto). Meat (especially veal) is king.

Cheeses of Lombardy
Regional Lombard cheeses include the blue- veined Gorgonzola, the creamy and mild Bel Paese, and the surface-ripened Taleggio.

Beverages of Lombardy
Wines are of little note from a serious wine drinker's perspective, but Lombardy does manufacture the well-known Campari, a bitter sweet aperitif sipped in chic bars around the globe.

Best city for gourmets
Milan is the top all-around food city in Lombardy. Bergamo is the runner-up.

Learn More

for first Lombard/Milan page
Also learn about these
Italian culinary regions
and their famous dishes
Italian culinary regions
Campania and its Naples
Emilia Romagna and its Bologna
Latium and its Rome
Liguria and its Genoa
Lombard and its Milan
Piedmont and its Torino
Sardinia
Sicily
Tuscany and its Florence
Veneto and its Venice
Plus some other regions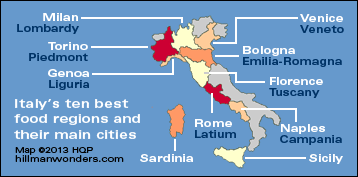 Also read
Italian cuisine - Home page
Top 10 Italy travel wonders
Photo by Jon Sullivan - PD
Italian Government Tourist Board

Rankings
Peasant recipes
World wonders
Also read
Site map
About me and my credentials
About my website
Reader testimonials
Email me your opinion