Piedmont and Torino
cuisines
page 2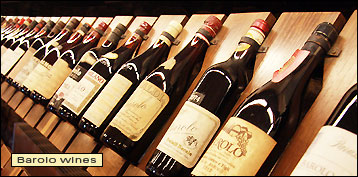 More Piedmont
and Torino cuisine
tips and insights

French influence
Although culinary influences from neighboring France can be seen in the regional cuisine, Piedmontese cookery is nonetheless distinct unto itself.

Wines of Piedmont
Piedmont is without question Italy's finest red wine-growing district, Tuscany and its Chianti Classico notwithstanding. Using the noble Nebbiolo grape, Piedmont produces the great full-bodied Barolo and Gattinara reds and the near-great Barbaresco red, none of which should be drunk younger than five to ten years. There is also a varietal Nebbiolo red, as well as Barbera and Grignolino reds (of lesser breed). Regional white wines are few and uninteresting.
On the sparkling side there is Asti Spumante, more famous than great, and often a bit sweet. Greater Torino is Italy's Vermouth capital.

Best city for gourmets
Torino (also spelled and pronounced Turin) is the top all-around food city in Piedmont.

Learn More

for first Piedmont cuisine page
Also learn about these
Italian culinary regions
and their famous dishes
Italian culinary regions
Campania and its Naples
Emilia Romagna and its Bologna
Latium and its Rome
Liguria and its Genoa
Lombard and its Milan
Piedmont and its Torino
Sardinia
Sicily
Tuscany and its Florence
Veneto and its Venice
Plus some other regions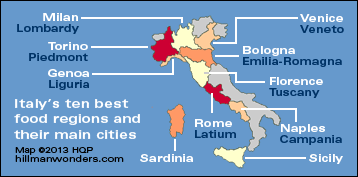 Also read
Italian cuisine - Home page
Top 10 Italy travel wonders
Photo by Alessandro Vecchi - CC BY-SA 3.0
Italian Government Tourist Board

Rankings
Peasant recipes
World wonders
Also read
Site map
About me and my credentials
About my website
Reader testimonials
Email me your opinion