South African wine
regions and grapes
Food tips you can trust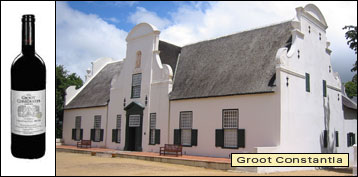 Top 3
areas for
South African wines
South Africa has over 50 distinct wine areas (officially and somewhat confusingly classified as regions, districts, wards, and geographical units). The top three are near Cape Town on Africa's southern tip. Look for Stellenbosch, Constantia, and Paarl on the wine label.

Stellenbosch
This is the nation's finest wine area. It has been called the Napa Valley of South Africa. It vints outstanding white, but excels most in red wines. Stellenbosch is also the country's most scenic wine area and has some fine restaurants. These features make a Stellenbosch wine route trip even more compelling.

Constantia
South Africa's first vines were planted here. Groot Constantia, the country's most historical and famous winery, resides here (see photo). Constantia was once noted for its dessert wine that Napoleon relished. Today, Constantia also produces dry red and white South African wines.

Paarl
It ranks third on the list. Whereas Stellenbosch is largely made up of small-wineries, Paarl mainly has a big-winery infrastructure. It produces whites and Sherry-like fortified wines, but it's best known for its robust red Shiraz wines.
South African
wine grapes

Pinotage
This hybrid grape is a South African creation, dating back almost a century. It's a Pinot Noir crossed with a Cinsault (called "Hermitage" locally). It is now enthusiastically planted in Australia, the USA, and other countries.

Other widely grown reds
In order of use: Cabernet Sauvignon, Shiraz, and Merlot.

Widely planted whites
Chenin Blanc (called "Steen" locally) is the workhorse grape of the South African wine industry. It's blended into a variety of wines, sometimes gloriously, sometimes mundanely. Ditto for the Sauvignon Blanc. The Colombard is also broadly planted, but is normally vinted for ordinary wines.
Learn More

for next South African wine page
Learn more
about South Africa
Click blue links
to open my other
South Africa pages
Food and wine
Top 10 South African foods
South African cuisine history
More South African food tips
Travel wonders
Top 7 wonders of South Africa
Building photo by Tjeerd Wiersma - CC BY 2.0

Rankings
Peasant recipes
World wonders
Also read
Site map
About me and my credentials
About my website
Reader testimonials
Email me your opinion