South African wine
page 2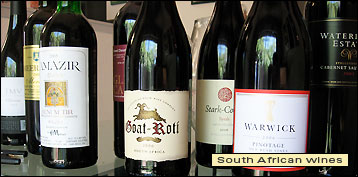 More
South African wine
tips and insights

Quality
South Africa has a reputation for exporting high quality and commendable mid-quality wines at good-value prices. Mass-market South African wines are also appealingly priced, but are unremarkable.

History in brief
In the 1600s, the French Huguenots brought to South Africa their vines and wine-making skills. The industry slowly developed. It wasn't until after apartheid that the world began discovering South African wines. Today, the nation is one of the world's top ten wine-producing countries.
Other notable
South African
beverages

Cape Brandy
It's a big seller in South Africa. Cape Brandy is appreciably sweeter than typical international-style brandies.

Umgombothi
This moderately potent home-made beer is made with sorghum and other grains. Worth tasting, but expect a sour note.
Learn More

for first South African wine page
Learn more
about South Africa
Click blue links
to open my other
South Africa pages
Food and wine
Top 10 South African foods
South African cuisine history
More South African food tips
Travel wonders
Top 7 wonders of South Africa
Photo by Jason Weaver - CC BY 2.0

Rankings
Peasant recipes
World wonders
Also read
Site map
About me and my credentials
About my website
Reader testimonials
Email me your opinion