Best
Mediterranean
cruise lines
Luxury $$$$
Luxury-upmarket $$$/$$$$
Cruise tips you can trust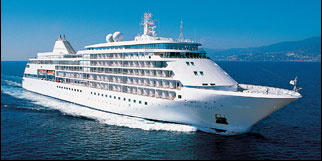 Test yourself
Do you know the best
Mediterranean cruise lines
in these categories?
Click blue links to see winners
Luxury $$$$
Luxury-upmarket $$$/$$$$
Upmarket $$$
Mid-priced $$
Budget + sail + adventure
$$$$
Best luxury
Mediterranean cruise lines

alphabetical

Crystal Cruises
Fine food & service are priorities

Regent Seven Seas Cruises
Laid-back refined lifestyle

SeaDream Yacht Club
Small ships visit non-touristy ports

Silversea Cruises
Smart decor and furnishings

Yachts of Seabourn
Shallow-draft ships for small port access
$$$/$$$$
Best luxury-upmarket
Mediterranean cruise lines

alphabetical

Azamara Cruises
Top cruise line of Royal Caribbean's family


Oceania Cruises
Offers long (up to 36 days) cruises
What you can expect from
luxury and luxury-upmarket
Mediterranean cruise lines

Luxury
Key benefits include:

All-inclusive fare


Polished, attentive service


Stylish decor & furnishings


Inspired food quality & presentation


Open seating


Spacious cabins and public spaces


High-tech electronics in cabins


Very high crew-to-passenger ratios


Sophisticated fellow passengers


Intelligent enrichment programs

Luxury-Upmarket
While a cruise connoisseur would notice the subtle differences in food, service, and facilty quality level between a luxury and luxury-upmarket, the average cruiser wouldn't.
That average cruiser, however, would certainly notice that luxury-upmarket cruises have lower fares. Those lines do this by paring some costs or by charging for some items (such as cocktails).

Best in the other categories
Click links to see the winners
Upmarket
Mid-priced
Budget + sail + adventure



Civitavecchia
Piraeus
Venice
Livorno
Istanbul
Dubrovnik
Naples
Marseille
Nice
Malaga


Western ports
Eastern ports
Ports near Mediterranean


Best cruise lines
Best time to go
Best itineraries

World Wonders - Top 100 rankings
World Wonders - Top 1000 list
My credentials
About my website and criteria
Reader testimonials
Site map