Best
Mediterranean cruise
itinerary
Cruise tips you can trust
Bewildering number
of Mediterranean cruise
itinerary choices
The Mediterranean Sea is the largest sea in the world. It has more than 100 cruise ports and itineraries. Deciding the right itinerary for you is a complex process.
Simplify your decision

Narrow down your
geographical scope.
First decide whether you want to experience the Western or Eastern Mediterranean. Then determine which ports of call appeal to you most.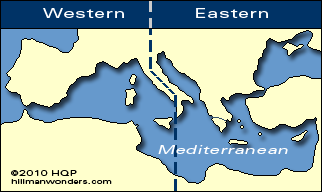 Then focus on the ports of call and the sightseeing and shore excursions each offers.
Popular Western
Mediterranean ports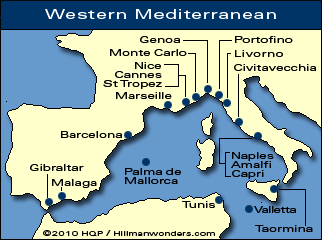 Popular Eastern
Mediterranean ports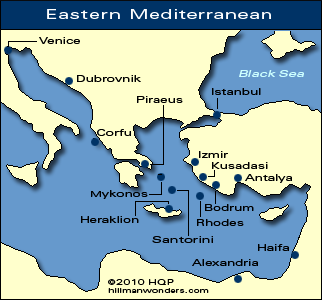 Western vs Eastern

Which side is
best for you?
Most first-timers prefer the Western Mediterranean. Seasoned Mediterranean cruisers tend to gravitate to the Eastern Mediterranean.

Hybrid itineraries
Some cruise itineraries visit both the Western and Eastern Mediterranean. For instance, you embark in Nice (Western) and disembark in Athens (Eastern), and stop at a variety of ports en route.
Keep in mind

Small ports
You'll likely need to book a small luxury cruise ship if you want to visit the small, picturesque ports of call.

Port time
Don't use the port arrival and departure times on a cruise's itinerary schedule to determine how long you will be ashore. You have to subtract the line waiting and transfer times from ship to shore, and back. This could consume a couple of hours or more if you are tendering and are on a large ship.



Civitavecchia
Piraeus
Venice
Livorno
Istanbul
Dubrovnik
Naples
Marseille
Nice
Malaga


Western ports
Eastern ports
Ports near Mediterranean


Best cruise lines
Best time to go
Best itineraries