Paul Gauguin cruise
top 5 onboard activities
#4 and #5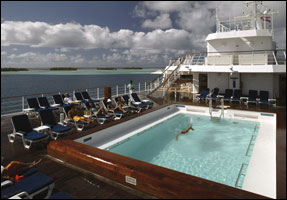 Pool swimming and lounging


Attendants will bring you drinks and food. Or, you can visit the conveniently adjacent Pool Bar or Le Grill restaurant.

You can almost always find an empty pool-side lounge chair any time of the day.

On most cruise ships, people leave items on lounge chairs to "own" them during their long absences. This custom is discouraged on the Paul Gauguin.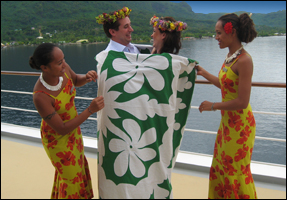 Symbolic Polynesian wedding


Les Gauguines conduct a vow-renewing Polynesian wedding ceremony for honeymooners and anniversary celebrants. It's symbolic, but an emotionally moving and delightful experience.

Attendees are greeted with champagne and hors d'oeuvres. Entertainment includes a slow, sinuous love dance performed by a Les Gauguines member.

As is in a traditional Tahitian wedding, a couple is crowned with floral tiaras and wrapped in a quilted Tahitian blanket. The winsome honeymooners in the photo above are Lauren and Brian Morgan from Toronto, Canada.

First the newlyweds partake. Next come the anniversary couples, in order of anniversary years, which ranged on my visit from 5 to 55.
Click links below
for my top 5
onboard activity pages

Polynesia entertainment


Marina water sports


Food & beverages


Pool + Symbolic wedding


Plus more
Learn my other
Paul Gauguin cruise
tips & insights
Why the Paul Gauguin is special
Not right for you?
Top 5 experiences - Onboard
Top 5 experiences - Shore
Special tips for lovers
Pre- and post-cruise resorts
Dinner menu selections
Itinerary maps
Deck plans
More tips & insights
Click Paul Gauguin for its website.

World's Top 100 Wonders
World's Top 1000 Wonders
Site map
My credentials
About my website and criteria
Reader testimonials