Best
Alaska cruise lines
by category
Alaska cruise
tips you can trust
Can you name the best
Alaska cruise line in
these five categories?
Luxury - Small-sized ship $$$$
Luxury - Mid-sized ship $$$$
Upmarket $$$
Mid-priced $$
Expedition $$$$
I name and describe them below. Click a cruise line's boldface name to visit its website for booking or for itineraries, prices and other information.

Luxury - Small-sized ship
Under 500 passengers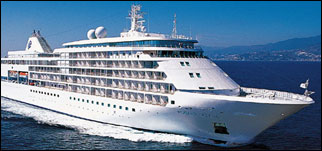 Silversea Cruises uses its 382-passenger, all-balcony Silver Shadow ship for Alaska cruises. Not only is the Silver Shadow the best small-sized luxury ship sailing Alaska, it is the best overall in Alaska, edging out the Mariner.
I created a special 10-page section describing in words and photos my experience on the Silver Shadow on an Alaska cruise. Click this link: Why the Silver Shadow is special

Luxury - Mid-sized ship
500 to 1000 passengers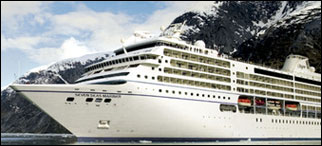 Regent Seven Seas Cruises deploys two of its ships to Alaska for the summer, the Mariner and the Navigator. Both vessels have admirable service, foods, cabins, and public areas. The 700-passenger Mariner is the slightly better of the two and all its cabins have balconies.

Upmarket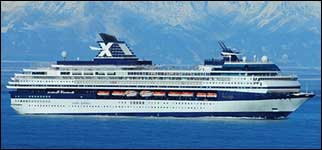 Celebrity Cruises is noticeably superior to the mid-priced lines in food, service, entertainment, and cabin space. The Infinity and Millennium are its top two ships sailing the Alaska cruise. Both accommodate about 2,000 passengers.

Mid-priced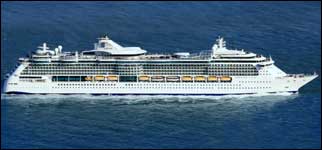 Royal Caribbean International has the best Alaska cruise ships in the mid-priced category. Many vacationers prefer it because its passengers makeup is balanced in terms of age, education and cultural interests - and people party, but not excessively. And children are more than welcomed. Its Alaska cruise ships include the Radiance of the Seas and the Rhapsody of the Seas.
Mid-priced runners-up: Princess and Carnival and Norwegian. Though not quite up to Royal Caribbean's performance, they are nonetheless fine cruise lines. Most vacationers have a great time on them in Alaska.
Like Royal Caribbean International, these cruise lines have large ships.

Expedition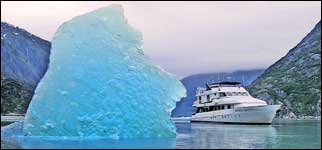 American Safari Cruises operates small vessels carrying 12 to 26 passengers. American Safari Cruises appeals to the adventure traveler. The prime focus is on wildlife, wilderness, and conservation. The small size of its ships lets them to go to places that bigger ships cannot go. Rates are high, service is outstanding, and cabin space is small.

Itinerary insights
Packing tips
Famous Alaskan foods
Alaska facts and tidbits
Other Alaska cruise topics

Best 4 Alaska cruise ports to visit
Best shore excursions - overview
Helicopter tours - Ranks #1
Floatplane tours - Ranks #2
Best 3 Juneau shore excursions
Best 3 Ketchikan shore excursions
Best 3 Sitka shore excursions
Best 3 Skagway shore excursions
Best glaciers

Denali National Park
Goldstar Dome railroad ride
More pre- and post-cruise options


World Wonders - Top 100 rankings
World Wonders - Top 1000 list
My credentials
About my website and criteria
Reader testimonials
Site map