Why Silver Shadow
is the best
Alaska cruise ship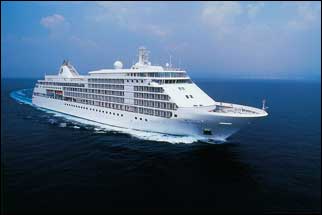 Best luxury
Alaska cruise ship
I selected the Silver Shadow to illustrate what it's like on a luxury Alaska cruise ship because the consensus of seasoned cruisers consider it to be the most luxurious cruise ship sailing Alaska's Inside Passage. Reasons include:

Activities
Silversea Cruises offers sophisticated onboard activities. And it carefully picks the best, most reliable tour operators in each port. Learn more by visiting my Silver Shadow activities page.

Dining
The Silver Shadow has three full-service restaurants. I describe each on my dining page and list examples of their main entrees on the dinner menu page.

Service
The Silver Shadow has one of the highest crew-to-passenger ratios in the cruise line industry (1.4 to 1). With one exception, I found the crew members to be skilled, friendly and accommodating. If you would like to see what some of the staffers on my cruise look like, click Silver Shadow crew for their photographs.

Suites
The Silver Shadow is an all-suite cruise ship. Each suite is spacious, stylish, and comfortable. Click suites to see photos of the various suite categories.

Ambiance
To illustrate the exquisitely designed public areas, I created public spaces, a photo gallery of 14 different venues.
The Silver Shadow isn't
right for you if ...
You're traveling with
teens and children
The Silver Shadow and other luxury ships don't have special facilities and programs to entertain mid-teens and children. If you're cruising as a family, you will more likely enjoy an Alaska Cruise if it has age-categorized onboard activities and shore toursfor non-adults.
You're curising on a budget
Silver Shadow rates are understandably high because it's a small luxury cruise ship with exceptionally high standards. The Silver Shadow offers great value, if you can afford its cruise rates. If not, don't put off an exciting Alaska cruise. Book one with a less expensive cruise line.
For my recommendations, click:
Best Alaska Cruise Lines by Category

Learn my other
Silver Shadow tips
Silver Shadow
Why it's special
Top activities
Dining
Dinner menus
Silver Shadow facts
Photos and deck plans
Other public spaces
Suite photo gallery
Crew photo gallery
Deck plans
Click Silversea Cruises for its website.
Learn my
Alaska sruise tips
Itinerary insights
Packing tips
Famous Alaskan foods
Alaska facts and tidbits
Other Alaska cruise topics

Best 4 Alaska cruise ports to visit
Best shore excursions - overview
Helicopter tours - Ranks #1
Floatplane tours - Ranks #2
Best 3 Juneau shore excursions
Best 3 Ketchikan shore excursions
Best 3 Sitka shore excursions
Best 3 Skagway shore excursions
Best glaciers

Denali National Park
Goldstar Dome railroad ride
More pre- and post-cruise options


World Wonders - Top 100 rankings
World Wonders - Top 1000 list
My credentials
About my website and criteria
Reader testimonials
Site map