Great
Peasant Dishes
home page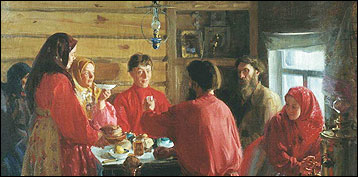 A dozen
great peasant dishes
for your kitchen
I learned how to prepare these peasant dishes from local cooks during my gastronomic journeys around the world.
All my peasant cuisine recipes are authentic, kitchen tested, and easy to follow - and just as important, delicious.
The recipes are from my critically praised Great Peasant Dishes of the World book (see reviews in right column).
Each dish has three web pages:

Recipe

Cooking tips

Insights
Spain
Arroz con Pollo
Pan-steamed rice with chicken

France
Cassoulet
Smoked-meat bean casserole

China
Cha Chiang Mein
Lo mein noodles with pork

Morocco
Couscous
Semolina with meat/veggies

Czech Republic
Houskove Knedliky
Disc-shaped bread dumplings

Mexico
Huevos Rancheros
Tortillas topped with fried eggs

Indonesia
Nasi Goreng
Rice with herbs and spices

Italy
Osso Buco
Braised seasoned veal shank

Japan
Oyako Donburi
Rice topped with egg & chicken

India
Roghan Josh
Lamb braised with spices

Thailand
Tom Yam Kung
Spicy, prawn soup

Brazil
Vatapa
Simmered fish with shrimp

Turkey
Yalanci Dolma
Rice-stuffed grape leaves

Peasant meal art by Ivan Semenovich Kulikov - PD


Peasant cuisine home page
Be peasant cuisine savvy
Be world cuisine savvy
World wonders
More
Site map
About my credentials & website
Reader testimonials
Email me your opinion