Teotihuacan
Travel tips you can trust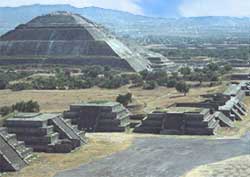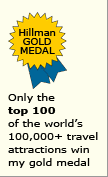 Why
Teotihuacan
is special
Teotihuacan is an extensive ancient religious complex near Mexico City. Its many architectural marvels include the enormous Pyramid of the Sun (see photo), one of the grandest monuments ever erected.
Pronouncing Teotihuacan

Phonetics
TAY-uh-TEE-wah-kahn
Mysterious origins

Teotihuacan likely
dates back to the
early 2nd century BC
However, little is known about the ancient people who built it a thousand years before the Aztecs came into power and Cortez arrived.
When to come

Summer
Middays can be sweltering, so come early or late to avoid the heat (and crowds). And early is preferable to late because thunderstorms occur more frequently in the afternoon.

Winter
In the wintertime, the temperature can become nippy and a bit raw.
Getting to
Teotihuacan

Near Mexico City
The site is located roughly 50 kilometers (30 miles) northeast of the center
of Mexico City. The trip takes an hour by bus or car.
Location map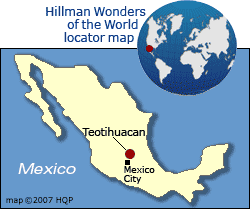 Learn More

for Teotihuacan - Page 2
Learn my other
Mexico tips and insights
Wonders of Mexico
Acapulco
Calakmul
Chichen Itza
Copper Canyon
Mitla
Monte Alban
Natl Mus of Anthropology
Palenque
Parque la Venta
San Miguel de Allende
Taxco
Teotihuacan
Uxmal
Related pages
Mexico wonders - Top 10 rankings
Mexico wonder map
Basic Spanish phrases for travelers
Mexican cuisine
Visit Mexico - Official tourism website

World's Top 100 Wonders
World's Top 1000 Wonders
Site map
My credentials
About my website and criteria
Reader testimonials