Panama Canal cruise
Cruise tips you can trust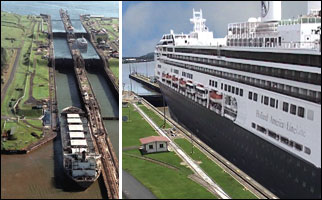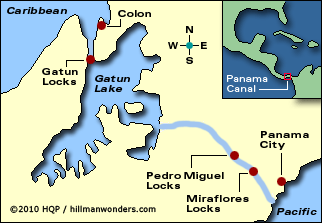 Why a Panama Canal
cruise is special
The Panama Canal strategically links the Pacific with the Atlantic Ocean. It has an interesting history. And it gives cruisers an up close view of massive locks in action.

When to go
There are several Panama Canal cruise seasons:

Mid-December to April
I recommend you sail during this period. It's the driest and best overall Panama Canal season.

May to September
You risk being drenched in downpours. And humidity is uncomfortably high. Most cruise lines avoid sailing during this period - and you should, too.

October to mid-December
Some cruise lines begin their Panama Canal sailing seasons in this period. But heavy rains and high humidity could spoil your vacation. My advice: wait.

The three types of
Panama Canal cruises
Canal-only cruises are rare. Panama Canal cruises are almost always part of a multiple-destination cruise that include Caribbean (such as Aruba) and/or Pacific coast ports (like Acapulco).
The three basic types of Panama Canal cruises are:

Full transit
You completely pass through the Panama Canal, from the Atlantic to the Pacific side - or do the reverse. You visit ports on both coasts. This passage could be part of a New York to San Francisco cruise - or even a round-the-world cruise.

Partial transit
Your cruise ship sails to Colon (see map below), then sails through the Gatun Locks to Gatun Lake. After some shore excursion opportunities (which could include a land day trip into the tropical rainforests or even a visit to Pacific side of the Panama Canal), your cruise ship backtracks to the Caribbean.

No transit
These are essentially Caribbean cruises that dock in Colon as one of their Caribbean ports of call. From Colon, you take a shore excursion to view the Gatun locks.
Learn my other
Panama Canal tips and insights
Locks
Ships
Sightseeing
History + Geography
More pointers
Learn these
cruise tips
Best cruise lines by category
29 cruise lines - descriptions
Top 10 destinations
Cabin selection
Cruise costs
Booking advice
Shore excursions
Cruise pros & cons
Cruise dining insights
Family cruising
Cruise etiquette
Ship communications
Cruise industry - facts
More cruise tips/insights
Cruise Lines International Association

World's Top 100 Wonders
World's Top 1000 Wonders
Site map
My credentials
About my website and criteria
Reader testimonials