Panama Canal cruise
Sightseeing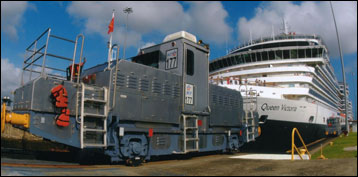 Panama Canal sightseeing

Best onboard
sightseeing vantages
Watching the locks in operation from your ship is a key highlight on a Panama Canal cruise. Side decks (and virtually all cabin balconies) offer poor vantages. The best viewpoints are on the fore deck (the aft deck is second best). And the higher the deck, the better the eagle-eye perspective.

Panama Canal
cruise viewing problem
Unfortunately, cruise ships generally don't have sufficient fore and aft deck space to accommodate all their view-seeking passengers. Standing three deep at the railing is not uncommon. This is especially bad for photographers and short people. It's wise to arrive early to stake out your unobstructed railing spot.

Shore excursion
The best are rainforest excursions you take when the ship arrives in fresh-water Gatun Lake.

Night crossings
Be aware that some cruise ships are scheduled to pass through the Panama Canal at night. That's not what most cruisers come to do. Make sure the cruise you book has a scheduled daylight transit. Even then, you could be stuck with a night passage. Reasons include an unavoidable delayed cruise schedule or an unanticipated major traffic backup on the waterway.
Learn my other
Panama Canal tips and insights
When to go + The 3 types of cruises
Locks
Ships
History + Geography
More pointers
Learn these
cruise tips
Best cruise lines by category
29 cruise lines - descriptions
Top 10 destinations
Cabin selection
Cruise costs
Booking advice
Shore excursions
Cruise pros & cons
Cruise dining insights
Family cruising
Cruise etiquette
Ship communications
Cruise industry - facts
More cruise tips/insights
Photo by Bruce Tuten - CC BY 2.0
Cruise Lines International Association

World's Top 100 Wonders
World's Top 1000 Wonders
Site map
My credentials
About my website and criteria
Reader testimonials