Panama Canal cruise
History and Geography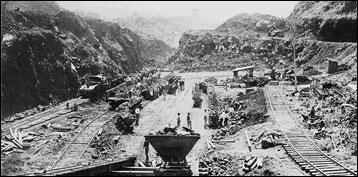 History in brief

Most significant periods

1630s
King Charles I of Spain orders a survey to determine whether a canal is feasible. He listens to his experts and wisely drops the idea.

1880s
The French, who just successfully built the amazing Suez Canal, make an all-out effort to develop the Panama Canal. But desert and tropical rainforest conditions are decidedly different. More than 20,000 workers die (mainly due to tropical diseases like malaria and yellow fever). The project went bankrupt and folds.

1904 to 1914
Americans take over, this time successfully, but - as with the French - at a terrible human cost. Over 5,000 workers die of tropical diseases and work accidents such as landslides.

The future
The Panamanian government is building a third lane of locks to handle today's cargo and cruise megaships.
Geography

Location
The Panama Canal was strategically built in the narrowest, lowest lying part of Central America.

Shorcut
The Panama Canal saves mariners significant time, distance, and fuel - and reduces sea risks. Without it, ships would have to sail around the southern tip of South America. That would add several weeks and 12,500 kilometers (7800 miles). And the sea at the southern end of the continent can be dangerously rough.

Trick question
"Which is farther west, the Panama Canal's Pacific entrance or its Atlantic (Caribbean) entrance?"
"Pacific" sounds like the logical answer, but it's wrong. "Atlantic" is the correct answer. The Atlantic side is 40 kilometers (25 miles) west of the Pacific side. Reasons: The isthmus at the canal's location bends northeast (not south). And, the Panama Canal is built on a southeast-to-northwest orientation.
Learn my other
Panama Canal tips and insights
When to go + The 3 types of cruises
Locks
Ships
Sightseeing
More pointers
Learn these
cruise tips
Best cruise lines by category
29 cruise lines - descriptions
Top 10 destinations
Cabin selection
Cruise costs
Booking advice
Shore excursions
Cruise pros & cons
Cruise dining insights
Family cruising
Cruise etiquette
Ship communications
Cruise industry - facts
More cruise tips/insights
Cruise Lines International Association

World's Top 100 Wonders
World's Top 1000 Wonders
Site map
My credentials
About my website and criteria
Reader testimonials