Alsace-Lorraine
cuisine
page 2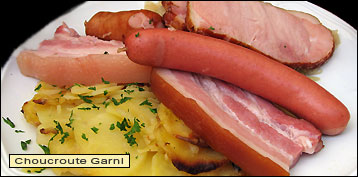 Wines of Alsace
Unlike the wines produced in the other major wine producing regions of France, Alsace's best wines are officially classified by grape type rather than by geographic location.
Of Alsace's many wines. The top two:

Riesling

The spicy Gewurztraminer
However, some other varieties such as Traminer, Sylvaner and Tokay d'Alsace make acceptable everyday drinking wines.
More
Alsace-Lorraine
tips and insights
are relatively similar.

German similarity
Alsatians and Lorrainers (especially the former) share a fondness with neighboring Germany for sauerkraut, pork, goose, sausages, and beer, among other hearty products. Even the Alsatian wines are close cousins to the Rhines and Mosels of Germany.

Cooking fat
difference
The Alsatians tend to use pork and goose fat as cooking oil more so than do the Lorrainers. The reverse is true when it comes to butter.

Best city
for gourmets
Strasbourg is the top all around food city in the Alsace-Lorraine region.

Learn More

for first Alsace-Lorraine food page
Also read these French cuisine pages

Epicurean
French Classical Cuisine
Regional cuisines
Alsace Lorraine
Bordeaux
Brittany
Burgundy
Classical
Normandy
Provence
Other regions
rankings
Top 10 famous French dishes
Best 10 world cusines
Top 10 Wonders of France
Photo by Will Bakker - CC BY 2.0

Rankings
Peasant recipes
World wonders
Also read
Site map
About me and my credentials
About my website
Reader testimonials
Email me your opinion