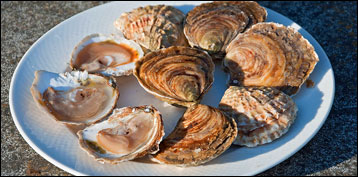 More
Brittany cuisine
tips & insights

Other famous foods
Brittany province is almost as well known for its bounty of:

Seafood
Succulent treasures are caught in Brittany's rugged seacoast waters.

Pork products
Includes Morlais ham and sausages such as the Andouille made of pork intestines.

Famous alcoholic
beverages of Brittany
The top two:

Muscadet wine
The invitingly dry white Muscadet wine is perfect with fish and is usually a good value. It is not to be confused with the cloyingly sweet Muscatel type wines produced elsewhere.

Hard cider
Brittany has many apple orchards bearing fruit to make its fermented cider.

Best city
for gourmets
Brest is the top all around food city in the province of Brittany.

Learn More

for first Brittany Cuisine page
Also learn about these
French culinary regions
and their famous dishes
Epicurean
French Classical Cuisine
Regional cuisines
Alsace Lorraine
Bordeaux
Brittany
Burgundy
Classical
Normandy
Provence
Other regions
rankings
Top 10 famous French dishes
Best 10 world cusines
Top 10 Wonders of France
Photo by Myrabella - CC BY-SA 3.0

Rankings
Peasant recipes
World wonders
Also read
Site map
About me and my credentials
About my website
Reader testimonials
Email me your opinion