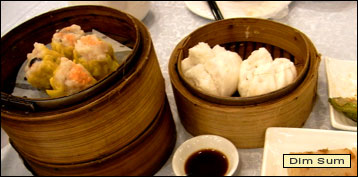 More
Cantonese cuisine
tips and insights

Covers large area
Cantonese cuisine today defines an area much greater than the city and immediate environs of Canton. My map depicts that area.

Natural flavors
Because the region produces China's finest raw ingredients, Cantonese chefs strive to bring out natural flavors rather than obscuring them with extra seasoning.

Color harmony
This is extremely important in Cantonese cooking.

Menu translations
The terms on Chinese restaurant menus in Western countries are usually transliterations of Chinese words pronounced with a Cantonese accent. This is so because most Chinese restaurant owners in the West are of Cantonese extraction.

Culinary corruptions
Of all the regional cuisines of China that have been exported abroad, Cantonese cuisine has been the most corrupted. For example, Cantonese chefs in China do not overuse soy sauce.
Learn More

for first Cantonese Cuisine page
Learn my Chinese tips
and insights on these pages
Click blue links
China's top 4 regional cuisines
Cantonese
Mandarin
Shanghai
Sichuan
Other main regional cuisines
Fukien
Hunan
Jiangsu
Shandong
Tibetan
Yunnan
Also read
10 most famous Chinese dishes
Chinese regional cuisine quiz
Chinese cuisine - Insights
Top 10 travel wonders of China

Rankings
Peasant recipes
World wonders
Also read
Site map
About me and my credentials
About my website
Reader testimonials
Email me your opinion