Chinese
regional cuisine quiz
test yourself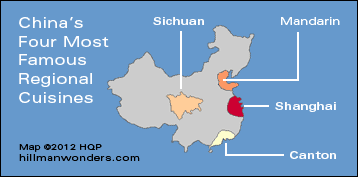 To know
Chinese cuisine,
you need to know
its regional cuisines.
What the outside world defines as Chinese cuisine is not a true cuisine but rather a composite of distinct regional cuisines.

Click blue links for answers

Cantonese cuisine

Name one of the
three main reasons it's
considered China's best?

Cantonese

Name at least one of its
most famous specialties?

Cantonese

Mandarin cuisine

What's the proper way
to eat Peking Duck?

Mandarin

Sichuan cuisine

How is the famous
Sichuan smoked duck made?

Sichuan

Shanghai cuisine

Which is sweeter, the
Shanghai or Cantonese
version of sweet & sour pork?

Shanghai

Other Chinese regions

How is the famous dish
General Tso's Chicken prepared?

Hunan

What's the interesting
background story on the
Beggar's Chicken dish?

Jiangsu

What is yak butter and
how is it used?

Tibet
Learn my Chinese tips
and insights on these pages
Click blue links
China's top 4 regional cuisines
Cantonese
Mandarin
Shanghai
Sichuan
Other main regional cuisines
Fukien
Hunan
Jiangsu
Shandong
Tibetan
Yunnan
Also read
10 most famous Chinese dishes
Chinese regional cuisine quiz
Chinese cuisine - Insights
Top 10 travel wonders of China

Rankings
Peasant recipes
World wonders
Also read
Site map
About me and my credentials
About my website
Reader testimonials
Email me your opinion