Chinese
cuisine insights
Food tips you can trust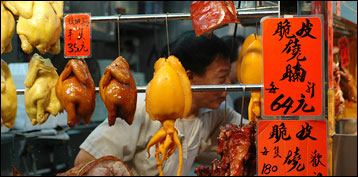 Chinese
cuisine insights

The two pillars of
Chinese cooking philosophy

Harmony
Chinese cuisine stresses a harmonious blending of foods - a dynamic balance between sweet and sour, rich and lean, bright-colored and neutral, smooth and crunchy.

Preparation
Skilled Chinese chefs and knowledgeable diners insist that each food ingredient should be at its peak of flavor and quality - and seasoned, cooked, and sauced properly.

Traditional Chinese
family dinners

Communal dishes
They equal the number of diners at the table.

Dish positioning
All dishes are set in the middle of the table at the same time.

Serving
The diners help themselves, using chopsticks to transfer small morsels from the communal serving dishes to the top of their rice in their individual rice bowls.

Pseudo Chinese food
Several preparations known as "Chinese" beyond China's borders are not Chinese. These include fortune cookies and Chop Suey (both invented in America).
And some preparations have been so bastardized in Chinese restaurants in America and Europe that the residents of China would hardly recognize the dishes.

Major cooking ingredients

Rice
In south China, rice is the main food. In north China, cereal grains, such as wheat (in the form of noodles, dumplings and steamed buns) reign in the north.

Meat
Pork and chicken are the two leading meats in China, though in the north, lamb is very popular.

Vegetarian
Buddhist monks, forbidden to eat meat, evolved a rich and diversified vegetarian cuisine. They developed recipes for bean curd and wheat gluten (developed from wheat flour). These mimic meat or simply provide variety.

Seasonings
Chinese cooks makes use of comparatively few herbs. Spices, condiments and dried foods are used more frequently.
Learn my Chinese tips
and insights on these pages
Click blue links
China's top 4 regional cuisines
Cantonese
Mandarin
Shanghai
Sichuan
Other main regional cuisines
Fukien
Hunan
Jiangsu
Shandong
Tibetan
Yunnan
Also read
10 most famous Chinese dishes
Chinese regional cuisine quiz
Chinese cuisine - Insights
Top 10 travel wonders of China
Photo by Joe Hastings - CC BY-SA 2.0

Rankings
Peasant recipes
World wonders
Also read
Site map
About me and my credentials
About my website
Reader testimonials
Email me your opinion