Sichuan cuisine
Food tips you can trust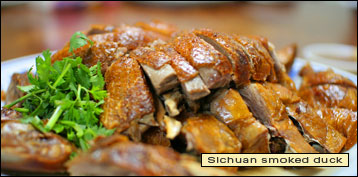 Famous
Sichuan cuisine
specialties

Camphor Wood or
Tea Smoked Duck
A whole duck is marinated in a mixture of rice wine, ginger, Sichuan peppercorns and tangerine peel, then smoked over coals sprinkled with camphor wood shavings and tea leaves.

Hot and Sour Soup
Chicken broth spiced with vinegar and pepper and stocked with shreds of pork, bean curd, tiger lily buds, and cloud ears (a dried tree fungus).

Twice-Cooked Pork
The meat is simmered, sliced, then stir-fried with vegetables and a spicy bean-based condiment.
More Sichuan cuisine
tips & insights

Recent world fame
Although fifty years ago few people outside of China were familiar with Sichuan's hot and spicy cuisine, today it has devoted fans around the world.

Pseudo Sichuan cooking
Many non-Chinese Sichuan restaurant-goers (especially in America) relish the monotonous everything-as-hot-as-possible approach.
Making one dish hotter than another is not a measure of a chef's talent. All it takes is the addition of extra chili, a feat that could be performed by a trained monkey.
Epicures judge a Sichuan chef by the subtly complex overtones of his sauces and whether they complement the other ingredients in his dishes.

Sichuan cuisine region in China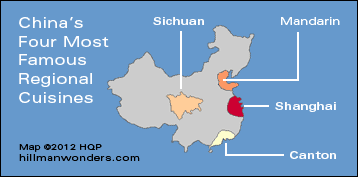 Learn More

for next Sichuan Cuisine page
Learn my Chinese tips
and insights on these pages
Click blue links
China's top 4 regional cuisines
Cantonese
Mandarin
Shanghai
Sichuan
Other main regional cuisines
Fukien
Hunan
Jiangsu
Shandong
Tibetan
Yunnan
Also read
10 most famous Chinese dishes
Chinese regional cuisine quiz
Chinese cuisine - Insights
Top 10 travel wonders of China
Photo by Clara Wu - Used with permission

Rankings
Peasant recipes
World wonders
Also read
Site map
About me and my credentials
About my website
Reader testimonials
Email me your opinion