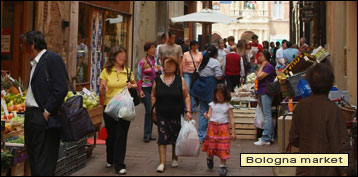 More famous
specialties of Bologna
and Emilia-Romagna

Seafood
Along the region's Adriatic coast, fish becomes the mainstay. T he brodetti (stews) are especially good.

Wine
The region's internationally famous wine is Lambrusco, a slightly sweet, slightly effervescent red wine. It's nothing very special, but is a fair foil for the region's rich, well-seasoned food.
Emilia-Romagna
tips and insights

La Grassa
With good reason, the region has been nicknamed "La Grassa". Literally translated. it means "the fat". It refers to the rich diet that the local citizenry has been enjoying for centuries.

Best city
for gourmets
Bologna is the top all-around food city in Emilia-Romagna.

Learn More

for first Emalia-Romagna page
Also learn about these
French culinary regions
and their famous dishes
Epicurean
French Classical Cuisine
Regional cuisines
Alsace Lorraine
Bordeaux
Brittany
Burgundy
Classical
Normandy
Provence
Other regions
rankings
Top 10 famous French dishes
Best 10 world cusines
Top 10 Wonders of France

Rankings
Peasant recipes
World wonders
Also read
Site map
About me and my credentials
About my website
Reader testimonials
Email me your opinion