Top 10 famous
Philippine foods
Food tips you can trust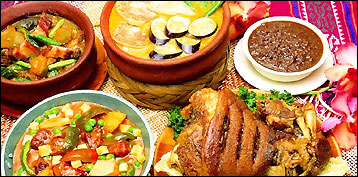 Top 10
Philippine cuisine
specialties

Lechon
Whole pig roasted to the crispy skin stage over coals. Named Lechon de Leche when a suckling pig is used. This specialty is essential for festive parties and celebrations - and has become the national dish, along with Adobo.

Adobo
Marinated pork and/or chicken is sauteed, then simmered with the marinade along with garlic, vinegar and soy sauce.

Lumpia Shanghai
Small, thin spring roll with a minced pork stuffing. A popular hors d'oeuvre.

Pancit Canton
Egg noodles stir-fried with tiny shrimp, minced pork and sausage, bite-sized vegetables, what have you. Many pancit versions exist including Pancit Bihon.

Halo Halo
A dessert made with sweetened jackfruit, beans, milk, and crushed ice. Served in a tall glass with a spoon. Name translates "mix-mix".

Kare Kare
A rich peanut-accented stew made with ox tails. Entrails and vegetables are frequently added.

Sinigang
A soupy dish made with chicken, pork, seafood, vegetables, you name it. Tamarind gives Sinigang its essential sour note.

Suman
Sticky rice wrapped and steamed in a banana or palm leaf.

Dinuguan
A stew of pork and pig innards thickened with fresh pig's blood.

Balut
Boiled fertilized duck egg complete with the visible embryo. It's an acquired taste.
Learn More

for 25 other major Philippine foods
Click blue links
to learn the tips
and insights in these
Philippine pages
Food and beverage
Top 10 famous Philippine dishes
25 more Philippine cuisine specialties
Philippine menu translator
Top Philippine beverages
Philippine cuisine tips and insights
Travel wonders
Top 7 wonders of the Philippines
Philippine Department of Tourism

Rankings
Peasant recipes
World wonders
Also read
Site map
About me and my credentials
About my website
Reader testimonials
Email me your opinion