Philippine beverages
Food tips you can trust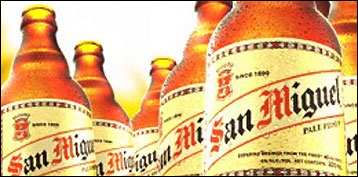 Popular
Philippine beverages

Beer
The tropical climate makes a cold brew refreshing. The dominant brand is San Miguel, which is brewed in the Philippines and shipped around the world.

Cold beverages
Cold soft drinks and fruit juices are quite popular in this tropical-climate land. Street vendors will prepare them for you on the spot.

Barako Coffee
The coffee bean is native to the Bicol region in central Philippines. Its brew is full-bodied and sturdy-flavored. While not one of the world's greatest coffees, it's of good quality.

Tuba
It's a spirit-wine concocted from palm-tree sap and is usually homemade. Most of the product is modestly potent, though sometimes it can be quite strong.
Also learn the tips
and insights in these
Philippine pages
Food and beverage
Top 10 famous Philippine dishes
25 more Philippine cuisine specialties
Philippine menu translator
Top Philippine beverages
Philippine cuisine tips and insights
Travel wonders
Top 7 wonders of the Philippines
San Miguel Brewery photo used with permission.
Philippine Department of Tourism

Rankings
Peasant recipes
World wonders
Also read
Site map
About me and my credentials
About my website
Reader testimonials
Email me your opinion