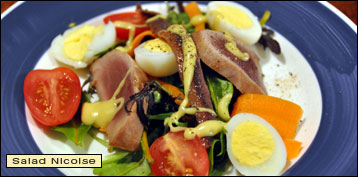 More Provence
tips & insights

Garlic
This heady scented plant has been called the "truffle of Provence".

Other flavoiring ingredients
Provence is known for its free-handed use of olive oil, tomatoes, and fresh aromatic herbs such as rosemary, basil, and fennel.

Seafood
It is abundant and popular. The two most notable fish are the rascasse of Bouillabaisse fame (described later) and the sea-bass like loup de mer. Other important edibles from the sea include octopus, squid, cuttlefish, mussel, langouste, langoustine, crab, and eel. River fish as well as preserved fish like sardines, anchovies, and salt cod often end up in the workingman's belly.

Food markets
Much to the delight of both cooks and diners, marketplace stalls glow with a profusion of photogenically displayed fruits and vegetables. The city of Lyons has the most celebrated food market in Europe.

Best city
for gourmets
Marseillea is the top all around food city in Provence. Avignon and Nice are runners-up.
Learn More

for first Provence Cuisine page
Also learn about these
French culinary regions
and their famous dishes
Epicurean
French Classical Cuisine
Regional cuisines
Alsace Lorraine
Bordeaux
Brittany
Burgundy
Classical
Normandy
Provence
Other regions
rankings
Top 10 famous French dishes
Best 10 world cusines
Top 10 Wonders of France
Photo by Cyclonebill - CC BY 2.0

Rankings
Peasant recipes
World wonders
Also read
Site map
About me and my credentials
About my website
Reader testimonials
Email me your opinion