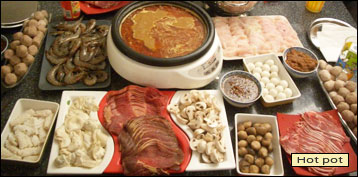 More
Shanghai cuisine
tips and insights

Geographic definition
"Shanghai cuisine" today defines an area much greater than the city and immediate environs of Shanghai. The term has been expanded to embrace the vast area known as the Central Coast. My map depicts that area.

Cuisine characteristics
Regional differences:

Compared to Cantonese
Shanghai cuisine is more assertively seasoned, greater in fat content, and higher in calories than Cantonese.

Compared to Mandarin
Shanghai cuisine is not as refined as Mandarin. though it is lighter and more mildly seasoned.

Sweet-and-sour
The cuisine of this area is characterized by the liberal use of sugar to sweeten dishes. To many of these dishes, a large dose of the local rice wine vinegar is added, producing sweet-and-sour specialties.

Flair
The cooks of Shanghai tend to cook with more flair than do their counterparts in other Chinese regions.

Degree of doneness
Most cooks in the region tend to cook their ingredients to a degree of doneness that could shock Cantonese chefs (they perfer lightly cooked food).
Learn More

for first Shanghai Cuisine page
Learn my Chinese tips
and insights on these pages
Click blue links
China's top 4 regional cuisines
Cantonese
Mandarin
Shanghai
Sichuan
Other main regional cuisines
Fukien
Hunan
Jiangsu
Shandong
Tibetan
Yunnan
Also read
10 most famous Chinese dishes
Chinese regional cuisine quiz
Chinese cuisine - Insights
Top 10 travel wonders of China

Rankings
Peasant recipes
World wonders
Also read
Site map
About me and my credentials
About my website
Reader testimonials
Email me your opinion