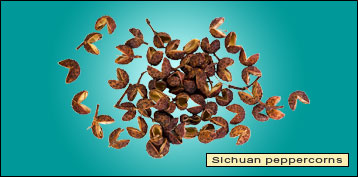 More
Sichuan cuisine
tips & insights

Sichuan peppercorn
Chef use this tiny fruit in its dried form (see photo above). It contributes flavor and hot spiciness to food, though not as much as chilies. And despite its name and culinary use, it is not related botanically to the peppercorn (or chili) family.

Chilies
They were not introduced into the region until a few hundred years ago, when chilies were brought over from their New World habitat.

Not everything is hot
The people prefer the dishes on the table to have degrees of hotness varying from mild to fiery.

Banquets
The use of chilies is drastically reduced or eliminated in the dishes served at banquets.

Geography
The region's culinary core is an isolated triangular fertile plain enclosed by three massive mountain ranges. This topography helps produce a hot and humid climate that is conducive to the area's most characteristic seasoning, tongue scorching chilies.
Learn my Chinese tips
and insights on these pages
Click blue links
China's top 4 regional cuisines
Cantonese
Mandarin
Shanghai
Sichuan
Other main regional cuisines
Fukien
Hunan
Jiangsu
Shandong
Tibetan
Yunnan
Also read
10 most famous Chinese dishes
Chinese regional cuisine quiz
Chinese cuisine - Insights
Top 10 travel wonders of China
Photo by Didier Descouens - CC BY 2.0

Rankings
Peasant recipes
World wonders
Also read
Site map
About me and my credentials
About my website
Reader testimonials
Email me your opinion