Shore excursions
Cruise tips you can trust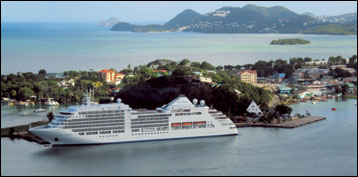 Shore excursion
tips & insights

Booking
Choice tours can become fully booked early, so book them well in advance on the Silversea Cruises' website.

If you haven't, do it at the Concierge Desk as soon as you board.

If fully booked
Sign up early at the Concierge Desk to be at or near the top of the waiting list.

Be aware that most cancellations occur the day before the tour.

Book with the ship
or on your own?
Each has method advantages

You'll save some money booking on your own.

However, if your self-booked tour vehicle breaks down on the road far from the port, the ship may sail without you to maintain its tight schedule. On ship-booked tours, the boat normally waits at least an hour or two. And if you do miss the boat, Silversea Cruises at its expense will get you to the next port to meet the ship.

Tour buses are not packed
To enhance the excursion experience of its guests, Silversea Cruises often leaves some tour bus seats vacant. And the tour groups are noticeably smaller sized than those offered by most cruise lines.

Onboard short excursion info
Although the daily Chronicle that's delivered to your suite contains helpful information on the next port of call, make it a habit to drop by the Concierge Desk the evening before for supplemental materials. For example, the desk often has guide pamphlets and possibly maps published by the local tourism board.
Learn my other
Silver Spirit tips & insights

What it's like on the
luxury Silver Spirit ship
Why the Silver Spirit is special
Lounges and bars
Main dining room
La Terrazza restaurant
Specialty restaurants
More food venues
Pool, spa & fitness
More onboard activities
Shore excursions
More tips
Cabin photos and amenities
Crew photo gallery
More photos
Deck plans
Ship fact sheet
Tips on cruising
Best cruise lines by category
22 cruise lines - descriptions Top 10 destinations Cabin selection Cruise costs
Booking advice
Shore excursions Cruise pros & cons Cruise dining insights Family cruising tips Cruise etiquette Ship communications Cruise industry - facts More cruise tips/insights
Photo credit: Silversea Cruises

World's Top 100 Wonders
World's Top 1000 Wonders
Site map
My credentials
About my website and criteria
Reader testimonials