The Restaurant
the main dining room
on the Silver Spirit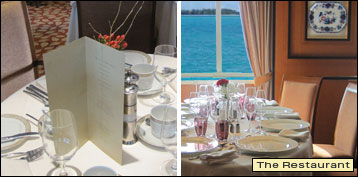 The Restaurant
tips & insights

No reservations
You dine when - and where and with whom you wish.

Ambiance
Decor is understated Art Deco. The room seats several hundred people and boasts comfortable cushioned chairs.

Meals

The Restaurant is open for a la carte breakfast, lunch, and dinner. Each meal has its own menu.

Dinner draws many people, but breakfast and lunch are normally lightly attended.

Cuisine is international. Dishes of different world cuisines are often featured.

Dinner menu
Some items are always available including Black Angus Filet Steak, and Char-grilled Chicken Breast, and Shrimp Fra Diavolo.
Others items change daily. Here's a brief sampling:

Appetizer
Caviar with condiments, Duck Carpaccio, Marinated Prawns, Spider Crab Tartare

Intermezzo
Crab Rangoon, Szechuan Udon Noodles, Tiger Prawn Rolls, Truffle Risotto

Main entree
Beef Tenderloin with Fois Gras, Bombay Duck Breast, Chateaubriand, Crab Timbale, Lobster, Osso Buco, Rack of Lamb, Tournedos Rossini, Veal Filet, Venison, Vindaloo, Zarzuela

Dessert
The kind you would expect to find on a luxury cruise ship
The kitchen is happy to prepare a favorite dish of yours that is not on the menu providing it has the ingredients onboard and you place your order at least 24 hours in advance.
Some wellness-menu dishes are available for all three meals.

Wine
Well-selected red and white house wines by the glass are complimentary. Ordering from the ship's Connoisseur List is extra.

Sharing a table
It's a time-honored cruise way to meet new friends. When you arrive at the main dining room, tell the maitre d' you would like to share a table.
Learn my other
Silver Spirit tips & insights

What it's like on the
luxury Silver Spirit ship
Why the Silver Spirit is special
Lounges and bars
Main dining room
La Terrazza restaurant
Specialty restaurants
More food venues
Pool, spa & fitness
More onboard activities
Shore excursions
More tips
Cabin photos and amenities
Crew photo gallery
More photos
Deck plans
Ship fact sheet
Tips on cruising
Best cruise lines by category
22 cruise lines - descriptions Top 10 destinations Cabin selection Cruise costs
Booking advice
Shore excursions Cruise pros & cons Cruise dining insights Family cruising tips Cruise etiquette Ship communications Cruise industry - facts More cruise tips/insights
Photo credit: HQP

World's Top 100 Wonders
World's Top 1000 Wonders
Site map
My credentials
About my website and criteria
Reader testimonials