Top 10 Rome
attractions
rankings you can trust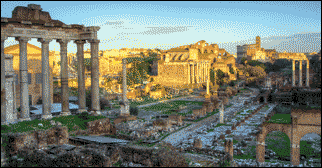 Test yourself
How many of Rome's Top 10 attractions have you experienced?
Rome's
top 10 must-sees
Click the blue links below to read my web pages on each Top 10 must see.

Colosseum of Rome

St Peter's Basilica

Sistine Chapel

Roman Forum/Palatine

Vatican Museums

Pantheon

Catacombs of Rome

Borghese Gallery

Spanish Steps

Trevi Fountain
Note: The St Peter's Basilica and the Vatican Museums are in Vatican City, not Rome. I include them on this top 10 list because from the tourist's perspective, they are "Rome".
Top Runners-up to
my list of Rome's 10 must sees
The city and the Vatican have attractions that just missed being on my Top 10 must see list.
They include:

Saint Peter's Square -

On Sunday mornings when the pope is in town, he blesses the crowd assembled in the outdoor square from the window of his study. To identify it, look for the large building standing behind the colonnades on your right. The window is second from the right on the top floor.

Castel Sant'Angelo -

Avoid crowds by arriving before the ticket gate opens at 9 am. You'll better enjoy the experience of walking up and down its renowned spiral staircase in this relatively small cylindrical fortress (now a museum).
In Rome, other deserving attractions include:

Campo de Fiori

Capitoline Museums

Piazza Navona

San Clemente Basilica

Sant'Ignazio Church

Trastevere district.
Top half-day trips
Both can be reached in 45 minutes, traffic permitting.

Ostia Antica - Its ruins are better preserved than Pompeii's.

Villa d'Este - This Renaissance-era garden is noted for its fountains.
My Rome pages
Top 10 Rome attractions
Intesting Rome facts
Best Rome hotel area
Hotel description
Best time to visit Rome
Read my other Italy pages
Wonders of Italy - Complete list
Italy wonder map
Basic Italian phrases
Italian cuisine
Best time to visit Rome
More pages
World Wonders - Top 100 rankings
World Wonders - Top 1000 list
My credentials
About my website and criteria
Reader testimonials
Site map
Photo by Robert Low - CC BY-SA 2.0

World's Top 100 Wonders
World's Top 1000 Wonders
Site map
My credentials
About my website and criteria
Reader testimonials