Best 5
adventure cruises
cruise tips you can trust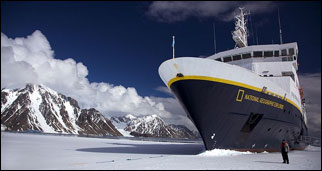 Top 5 adventure cruises
Click an individual blue links below to read my tip-filled pages on each of these top 5 adventure cruises.

Antarctica
Most ships visit the Antarctica Peninsula and its offshore islands. They sail during the warm months of the Southern Hemisphere, November through March. The two best months are January and February.

Antarctica
for my candid guide.

Galapagos
Passengers make shore excursions to the islands that helped inspire Charles Darwin's Theory of Evolution.

Galapagos
for my online guide.

Arctic
zBEST PARTS:  

Svalbard Island (this far-northern Norwegian Island is known for its polar bear sightings and icy rugged coastline)

Iceland (famous for glaciers, geysers, and volcanoes).

Greenland (spectacular glacier coastline).

Runners-up: Baffin Island (Canada) and North Cape (Norway).

Arctic
for my online guide.

Mekong
The Lower Mekong cruise is in Vietnam and Cambodia and is best because it includes a visit to Angkor Wat, one of my Top 100 Wonders of the World. The Upper Mekong route is in Laos and Cambodia, and passes through the Golden Triangle.

Mekong
for my online guide.

Amazon
BEST PART: The Upper Amazon (especially in the Iquitos area in Peru). The Lower Amazon in Brazil is less thrilling.
Amazon
for my online guide.
Learn More

for my adventure cruise page 2
Photo by Jason Auch - CC BY 2.0
Cruise Lines International Association

World's Top 100 Wonders
World's Top 1000 Wonders
Site map
My credentials
About my website and criteria
Reader testimonials