Antarctica cruise
What to know before
you book and go
page 1 of 3
Cruise tips you can trust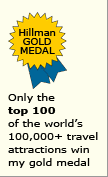 Why an
Antarctica cruise
is special
The best way I can describe my Antarctica cruise experience is I felt I was on a distant planet.
Most people think of penguins when they hear "Antarctica". Yes, you see them in their natural habitat. But even without the amazing penguins, Antarctica is spectacular.
It has one of the most fascinating natural settings in the world. You absorb bizarre-shaped giant icebergs, jagged snowy mountain peaks, sprawling glaciers, and other marvels.
What to know
before you book
an Antarctica cruise
Click blue links to view my pages

Best 3 Antarctica cruise ships
This page gives you my candid rankings.

When to go
It reveals the pros and cons of going during various months.

Who should go - and not go
Learn the factors that may influence whether an Antarctica cruise is for you.

Small versus big ship
Know the effect of a ship's size on your cruise experience.

Itineraries
See how the three basic itineraries (short, most-popular, and long) differ.

Costs
Become familiar with fares and discounts. Read helpful cost-related tips & advice.

What-to-pack checklist
Know what you need to bring to be suitably dressed for your onboard, Zodiac, and land activities.
For more
what to know
Antarctica Cruise
tips, click
Antarctica Cruise - What to know - PAGE 2
Antarctica Cruise - What to know - PAGE 3


Best 3 Antarctica cruise ships
When to go
Who should go - and not go
Small versus big ship
Itineraries
Costs
What-to-pack checklist

Zodiac landings
How to identify penguins
Antarctica history in brief
Interesting facts & tidbits
Glossary
More pointers
Photo gallery

Top 10 experiences
Suite photos
Deck plans
Onboard enrichment
Dining & entertainment
Other onboard activities
Silver Explorer ship

Antarctica Cruise - Home page
Top 10 wonders of Antarctica

World Wonders - Top 100 rankings
World Wonders - Top 1000 list
My credentials
About my website and criteria
Reader testimonials
Site map


World's Top 100 Wonders
World's Top 1000 Wonders
Site map
My credentials
About my website and criteria
Reader testimonials