Best Safaris
top 5 rankings you can trust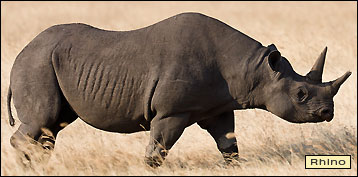 Best safaris - Top 5 rankings
Africa boasts several dozen safari parks and reserves. Below are the top 5 safari areas, ranked in order of the quality of the experience they offer seasoned travelers.

Serengeti
Tanzania
The large majority of sophisticated safari-goers consider the Serengeti National Park as the best African safari destination.
The world famous annual Serengeti Migration is the main draw. It's grand and mind-boggling.
To experience the migration, you need to be where the migratory animals are. To do this, you need to be at the right place at the right time. My animated month-by-month map shows you where you should be: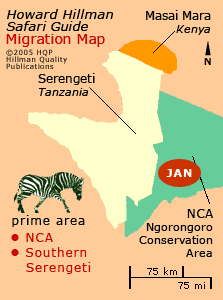 Click to read
my candid Serengetti pages

Ngorongoro Crater
Tanzania
The sizeable Ngorongoro Crater hosts a rich assortment of big safari animals. The caldera's high, steep walls keep them inside.


Click to read
my candid Ngorongoro pages
Ngorongoro Crater tips & insights

Kruger
South Africa
Some travelers believe Kruger ranks number one. This destination comprises two adjoining parts: The Kruger National Park and the private reserves. The latter is dotted with luxury lodges and camps.


Click to read
my candid Kruger pages
The #4 and 5 rankings
are on the next page

to see them
Locator map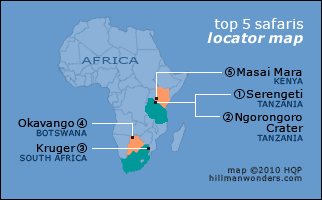 Learn my other
safari tips & insights

Top 5 safaris
Top 10 safari mistakes
Kenya vs Tanzania

Botswana
Kenya
Kruger
Ngorongoro Crater
Serengeti
Tanzania

Big 5 safari animal list
Big 10 safari animal rankings
Animal facts and tidbits
What it's like on a luxury safari
Comprehensive safari locator maps


World's Top 100 Wonders
World's Top 1000 Wonders
Site map
My credentials
About my website and criteria
Reader testimonials